Aalbæk Specialiteter
"Either we do it properly, or we don't do it at all"

- This has been the philosophy of Aalbæk Specialiteter since 1920.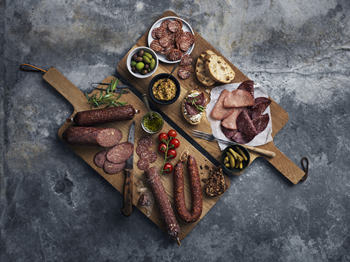 With an uncompromising attitude towards quality, we have developed specialties that are out of the ordinary for generations. Always by focusing on the basic ingredients, to refine the taste experience and the good handwork of a butcher. We are passioned about and proud of what we do, and our customers only deserve the best.
The products of Aalbæk Specialiteter lead to enjoyment. Both when it comes to taste and in social gatherings when eating together.
Timeline since 1920
1920: Aalbæk Specialiteter is founded
1930: Shops in Givskud, Vejle and Thyregod
1950: Thyregod Pølsefabrik opens
1956: Butcher's shop in Farre opens
1989: Third generation of the Aalbæk family becomes a part of the company
1990: Starts organic production as the first company in Denmark
1999: Factory in Farre only produces organic products
2004: Receives Børsens Fødevarepris (Foodaward from a recognised Danish business newspaper) for organic salami
2006: Exporting sausages to Europe, such as Germany and France, among others.
2007: Receives an Honorary diploma from The Danish Gastronomy Academy
2009: Receives Danish Food Forum's Award for Quality and Innovation
2015: Aalbæk Specialiteter becomes a part of Atria Danmark
2020: Aalbæk Specialiteter celebrates its 100 years anniversary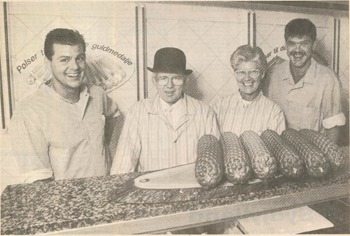 Today, Peter Aalbæk is the creative force behind the company. As third generation of the Aalbæk family, Peter combines the classic butcher handwork with the new culinary opportunities that the 21st century has to offer.
The innovative desire has always been a part of the Aalbæk family, and when Peter Aalbæk joined in 1986, he carried out a new vision. He focused on organic products, which has led to Aalbæk Specialiteter being one of the biggest manufacturers of organic cold cuts in Denmark today. Learn more about Aalbæk Specialiteter in our product selection and be inspired by tasty recipes.
Learn more about Aalbæk Specialiteter in our product selection and be inspired by tasty recipes.